Consumerism and communism are but two sides of the same ideological coin.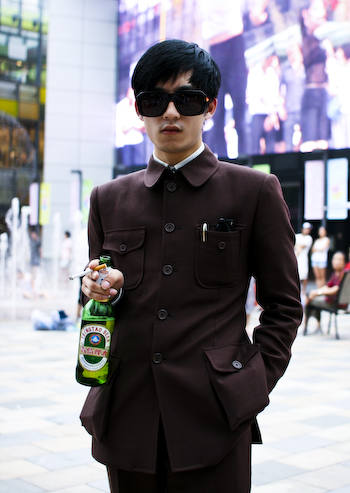 My attitude toward consumerism was indelibly marked by my having grown up during the cold war, when the conflict between East and West was popularly depicted as a struggle between a deliriously joyous consumerism and a gray life of deprivation and standing in lines to secure soap and crusty bread. Throughout my years in junior high and high school, I can remember hearing repeatedly about how jealous youths in the U.S.S.R. were about Americans owning multiple pairs of blue jeans and how a pair of Levi's was worth as much as a car over there. The shopping mall was in its ascendancy, commonly touted as an air-conditioned paradise, the architectural triumph of consumerism, offering an ideal civic space for contemporary times that could and should make dangerous urban city centers moribund. Suburban neighborhoods in the U.S. may have been boring and isolating, but it didn't matter because the mall was where you would go to meet friends, fetishize a panoply of goods, stock daydreams with branded luxuries, cram down junk food and generally become who you really were.
But there were no malls behind the Iron Curtain. Instead, we learned, there were state-run depots from which goods were issued to the demoralized population, who could ask no questions nor offer suggestions about what sort of things they actually wanted. Everyone was forced to have the same stuff, because no one was allowed to be different and it was a crime to think of yourself as an individual.
Hence the portrayal of Russians in cold-war-era films as monotone robots who humorlessly executed the Party's marching orders. That's why in 1985 Sting could think to sing the idiotic line, "I hope the Russians love their children too" and have it regarded as a profundity. Obviously if the Russians didn't believe in God or have malls or let their kids become individuals, they may very well not love them and may be eager to see them all martyred to the nuclear holocaust in order to secure a future where there's no class system, as well as no ambition, free enterprise, pluck or spirit.
In the U.S., we were taught that people in the East who had to stand in lines and who had no choices in department stores (let alone of department stores) were simply not free, in the most obvious and visceral of ways. Freedom is consumer choice, which is the choice to acquire the things with which to construct your real self. As we were made to see them, the poor souls in communist countries were a featureless mass of lumpen people with no individual identity. They weren't allowed to express themselves, and the censorship extended beyond what they might have said or created — with no consumer markets, no cornucopia of cultural products, what did they have to talk about anyway? — to their very identity itself. Everyone was the same, and it was supposed to be awful.
Freedom is consumer choice, which is the choice to acquire the things with which to construct your real self.
Trapped in the angst of my teenage isolation, perpetually and simultaneously paranoid about both being sufficiently unique and being included in the right cliques, such homogeneity didn't seem all that awful. I suffered from what seemed to me a kind of surfeit of identity, or at least a surfeit of potential identity. Every trip to the mall was punctuated by a feeling of emptiness and confusion about what I really wanted; regardless of what I bought or how many french fries I ate, I left dissatisfied. Every mundane choice about what I would wear or what music I would listen to or what I would write on the fronts of my notebooks seemed pregnant with obscure significance about who I was becoming, about what I was supposed to live up to, even though I desperately wanted not to care about any of it. I was sick of being judged. I wanted to be in the endless Eastern queue, waiting to be issued the standard package, my mind free to think about the things that mattered. I wanted to read Marx and grasp the totality, not parse the meanings of the clothing brands in the young-adult section of Macy's.
That was a conveniently rebellious attitude to have, anyway: Prosperity was a burden, and bourgeois conformity a crushing worry precisely because we weren't all issued Mao suits to wear. Being a teenager pretending to comprehend Marx was no less of a pose than being a teenager with rolled-up Girbaud jeans. Still, it was a relief to know the Iron Curtain countries were out there to offer a fantasy alternative for me, to serve as an anchor for resistance, even if in the last analysis they represented an alternative no American kid in their right mind would have chosen. Despite the optional paralysis, the hedonic treadmill, the invidious comparison, the ubiquitous anxiety-inducing marketing and all the rest of the palpable vicissitudes of capitalism, I still wanted more stuff, not a one-way ticket to Leningrad. But nonetheless, it was comforting to know there was an entire bloc of nations committed to establishing a limit to consumerism, even if nothing about American life made it seem possible that consumerism could be stopped. The communist countries offered the promise that consumerism was reversible, not merely the natural, inevitable way of life. They proved that people were out there who were still invested in the opposite ideal to consumerism, people who believed that we shouldn't spend our lives doing nothing nobler than competing to have better cars and clothes. Because of the Eastern bloc, one could dare to imagine really existing egalitarianism. One could imagine a place where one could stop worrying about oneself.
Reading Slavenka Drakulić's early-1990s essay "A Communist Eye, or What I Saw in New York," about encountering the pressures of consumerism amid Western poverty, reminded me of my youthful fantasies and, to a degree, vindicated them. It turns out that people from the East actually did absorb an egalitarian ideal and actually were invested in a different way of life. Even if they were force-fed a utopian ideology by a totalitarian state that made them surrender their innate wish to be better than their neighbors, they didn't experience it that way. Reflecting on gap between America as it is marketed and the reality of life as it is seen on New York's streets, Drakulić observes
There is a deeper reason why the poverty sticks to us, why we recognize beggars, homeless people, bums, petty thieves, drunks, the sick, junkies, why we take it all so personally, why it hurts us. It's because we have a communist eye. Like a third, spiritual eye placed in the middle of one's forehead, this eye scans only a certain type of phenomenon; it is selective for injustice. Even if the socialist states have fallen apart, the ideals of equality and justice haven't. They are still with us, built in like a chip. We remember them from school, from our movies, from literature glorifying the idea of justice, as well as from the clean, beggarless streets of our cities.
The communist eye sees misery and injustice where those schooled in capitalism tend to see differentials in "effort" or "merit." In the East, the repressive state channeled its people's ambition toward achieving the freedom defined by its own ideology, in which equal opportunity for all translates into a full flowering of every individual and the waste of nothing each has to offer to society. In the West, already putatively free, we never considered that we owed society anything or that our efforts had anything to do with society. Our ambitions were turned subtly toward unfulfillable fantasies of self-aggrandizement in the name of sustaining endless economic growth. Prosperity replaces material deprivation with a psychic inadequacy that can't be meliorated.
In this n+1 essay about childhood in communist Czechoslovakia by Jana Prikryl are some hints that these differences in orientation may persist. She notes a UNICEF report that claims children fare better in the Czech Republic than in the U.S. because there's less comparative poverty, despite the U.S. being much richer in absolute terms. Prikryl explains that "the only economic advantage to being a child in the Czech Republic is that your peers are all about as poor as you are." Drakulić had noted something similar: "In socialism, we were not used to thinking of ourselves as poor," she writes. "The communist principle of uravnilovka (leveling) made us all live more or less under the same conditions. There were no ways, no means, not enough goods to establish a real, visible, palpable class distinction between poor and rich." In the U.S., virtually nothing is visible but such ways, means, and goods. Mastering through consumerism the constantly refining subtleties of the distinction between classes presents itself as the meaning of life.
We conspired with the culture to make luxuries into necessities in our minds and to frankly enjoy the dubious pleasures of consumerism as though they didn't entail a sacrifice of an alternate ethical ideal.
Is that any less dismal than the empty shops and the threadbare private selves of communist Europe? Drakulić's essay vividly captures the way opulence and palpable inequality is oppressive in a different way than eastern grayness had been, an oppressiveness that in our own way we in the west were not permitted to admit. In our case, the proscription may have been more psychologically damaging because it was largely self-imposed, inculcated not directly by the State and by transparent propaganda but by what we voluntarily took in as entertainment, by what was directed at us from all sides by the existence of unnecessary goods we were invited to imagining possessing as our right. We conspired with the culture to make luxuries into necessities in our minds and to frankly enjoy the dubious pleasures of consumerism as though they didn't entail a sacrifice of an alternate ethical ideal.
In a passage about being dizzied by shopping at Bloomingdale's, Drakulić grasps much of what is unsettling and confrontational about consumerist ideology once it's made material and manifest in the commercial infrastructure — invasive institutions of everyday life in the west that Americans cannot help but take for granted:
After a certain point, my eyes refuse to look, my mouth becomes dry, and I start to have a headache. I recognize this particular tiredness,… the feeling that it is just absurd to look at so many things and so many kinds of one thing, as if one is enclosed in a room with mirrored walls that endlessly reflect each other. It has to stop somewhere — you think — this multiplying, this plenitude doesn't make any sense. Coming from the world of shortages, one's idea of plenty is mainly of fruit, meat, vegetables, of shampoo, soap, or toilet paper. Here, you are murdered by variations on each of these and by the impossibility of distinguishing the differences. First you discover an immense greed, a kind of fever, a wish to buy everything — the primordial hunger of consumerism. Then you discover powerlessness — and the very essence of it, poverty. Moreover, you start to realize that Bloomingdale's for you is a museum, not a real store where you can buy real things for your real self.
And in that account of an afternoon's dislocation, Drakulić sums up an ideological education that Americans have drummed into them their entire lives. Americans learn that "real things" and "real selves" only exist as potentialities, though we are obligated to always pursue them. We are obligated to be discontented with what we are — to become someone else — and search for our true selves at the same time. Is this in effect any different from the communists' insistence that the collective took precedence over the self, that the private self didn't exist? We are never who we are in a consumer society; instead we have an identity defined negatively, by what we lack and what we yearn for and what we fear is being said about what we have and what we display to the world.
Not that Drakulić regards communism as a lost golden age, or its ideology as faultless. In another essay she criticizes what she calls "the egalitarian syndrome" — regarding others' good fortune as an insult to society. Her ambivalence reflects the ongoing debate about income inequality. That debate essentially deals with these alternatives of a collective impoverished identity and prosperous but anxious selves. If we accept that well-being is fundamentally linked to our ability to manage our identity, then those alternatives translate into the question of whether well-being is better promoted through leveling at the expense of economic growth, or whether growth enables the general prosperity to obscure the misery of having less than some peers and the insecurity and intermittent guilt at having more than some others. No political system seems capable of embracing both possibilities. Can there be egalitarian autonomy? Or will the concepts continue to be pitted against each other politically, so that the existing drift upward of wealth and power can continue unscrutinized?
Rob would love to hear from you. Drop him a line at horninggenbub [at] gmail [dot] com.
Related Posts: